Bathroom Brands Group
With many years experience and knowledge of designing exhibition stands and showrooms for the kitchen and bathrooms industry, working with Bathroom Brands Group has been a pleasure. We have worked with all of the sub brands under the group umbrella – Crosswater, Burlington, Britton and Clearwater.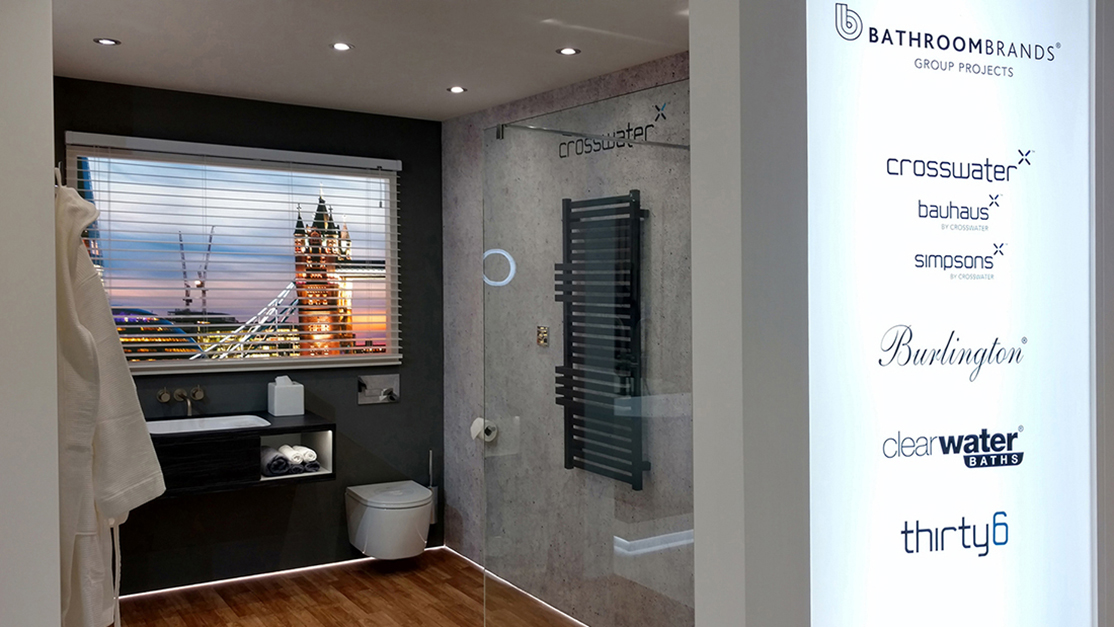 We put our interior design skills to use on this exhibition to create two contrasting displays for the classical looking but luxurious Burlington Brand, and the ultra modern Crosswater range. Each set had an eye catching window display built in which had an illuminated london backdrop image to help set the scene.
Two exhibition stands at one event, we designed and built both the Crosswater and Burlington exhibition stands at the independent hotel show. The exhibition designs had to have very contrasting styles but have an element which made the two stands very obviously belong to the same company - Bathroom Brands Group.
We where commissioned by Bathroom Brands Group to design and install a 'shop-in-shop' style showroom system to showcase all four sub-brands within multiple showrooms across the UK. Fully project managing each showroom, we surveyed, designed and installed each design so that there was minimal disruption - allowing the customer to continue trading, and also avoid effecting the existing space.
Thirty6 Showroom POS Display Design
Having developed a full series of showroom modules to launch the new range 'Thirty6' - We went on to develop smaller more compact POS displays for the range which could be manufactured off site and delivered for installation as a freestanding unit. The POS Design followed the same look and feel as the full showroom design, using the brand colours with impactful but minimal graphics along with real exposed real oak frames.