Ideal Standard
Having previously worked with the Guys at Ideal Standard for well over a decade, it was fantastic to to be invited back as HU3D to supply 3D design services for Exhibition design, Showroom design and POS.
Having worked on the previous design ten or more years ago – It was a fantastic honour for HU3D to be invited in to design the brand new showroom and meeting space, as well as refresh the main reception at Ideal Standard's primary UK offices in Hull.
The design was the first time the new Ideal Standard branding was implemented, so we devised a scheme and series of material finishes which not only worked well with the new branding but also created very modern and inviting space.
Handling a lot of showroom design work for Ideal Standard meant we where able to offer our services to design the interior to the mobile showroom trailer which was set to travel to various customer showrooms across the UK. The design needed to include a range of recently released products including Sanitary-ware, Brassware and showering products - all confined within a very small space.
The trailer interior was skilfully built fit out by Torton Bodies, and was on the move for a three month long roadshow across the UK in 2018.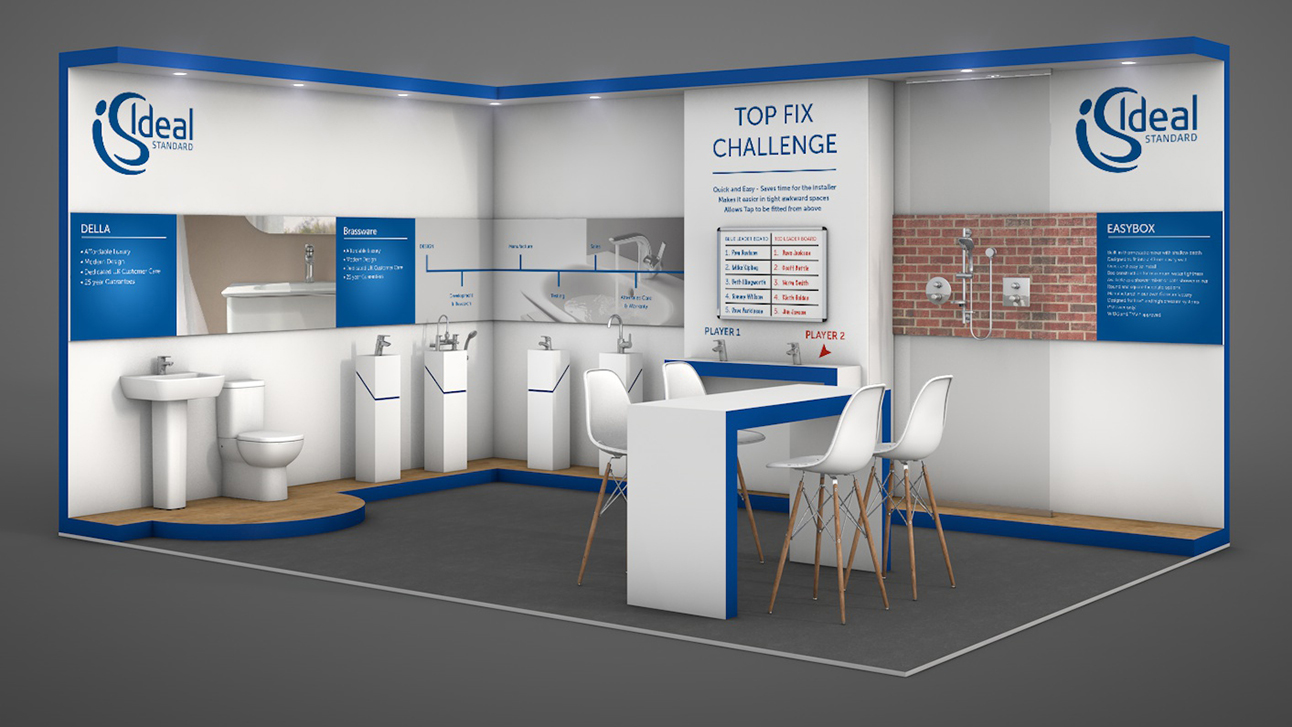 Screwfix Event Exhibition Design
Mid sized exhibition design to showcase a range of Ideal Standard products at the self hosted event by Screwfix. The stand required a minimal modern approach, which could be constructed with minimal build up time, to display a range of key products for the intended market sector.
As well as product displays a customer challenge was included which was set up for plumbers and bathroom installers to test the ease and simplicity of installing the new top fix range of brassware against the clock.
C&D Bathrooms POS Pods
A range of freestanding Ideal Standard branded product displays to be used with C&D Bathrooms showrooms. The displays needed to be both freestanding but also robust enough to hold a range of products including heavy wall mounted product. Taking a clean modern look we combined the IS colour pallet of White and blue with exposed polished plywood edges.